Patio Enclosures
Patio Construction and Installation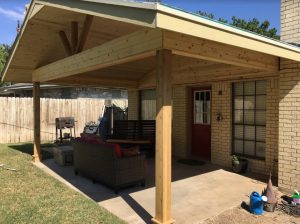 We understand that it can get very hot in Temple, Texas during the summer. At the same time, we know that you want to spend time in the sunshine. But, we also believe that you deserve to be comfortable. That is why you might want to reach out to our team to learn more about how patio enclosures can help you.
We are Bickel Construction, and it would be our pleasure to install a gorgeous patio enclosure above the exterior of your patio. We have a variety of materials available, and we can walk you through the process.
We will always start by meeting with you and discussing your goals for the project. We want to figure out exactly what you expect from your patio enclosure, and we want to select the right materials for the task.
Then, we will follow all of the best practices in our field as we install your patio enclosure. We are licensed, which is a sign of the expertise we have in our field. We are also properly insured to ensure that you are properly protected.
As the project unfolds, we will keep you updated every step of the way. We want to make sure you are satisfied with the quality of the final product.
Why Choose Bickel Construction?
We know that there are multiple options available if you are looking for a team that can help you build a patio enclosure. Some of the reasons why you should count Bickel Construction include:
We always use the best equipment and practices in our fields to complete every project.
We have the necessary licensing and insurance to make sure you are protected.
We will always provide you with a free quote before we get started.
We will clean up the project site when we are done. You do not have to worry about stepping on any equipment or materials.
We can use our connections to help you get the lowest possible price on the materials used to complete your project.
If you are looking for a patio enclosure, you should count on Bickel Construction to help you.
Call Bickel Construction Today for Help With Patio Enclosures Near Temple TX
Are you looking for a professional team that can help you build a patio enclosure above your patio? At Bickel Construction, we would be honored to help you. We have worked with countless homeowners, providing them with the patio enclosure that they have always dreamt of. Now, you would be honored to help you as well.
What do you think we can do for your patio enclosure? Call us today, and ask us for a free quote!